Basin Implementation Plan Update
Background
The Rio Grande Basin Implementation Plan (BIP) is currently undergoing an update! This effort coincides with updates to each roundtable's BIP across the state as well as the Colorado Water Plan (CWP), and will utilize data from the Technical Update to the CWP. The Colorado Water Conservation Board (CWCB) has selected engineering firm Brown and Caldwell as a General Contractor to assist CWCB and basin roundtables with the BIP and CWP update process.
The Rio Grande Headwaters Restoration Project (RGHRP) was selected by the Rio Grande Basin Roundtable (RGBRT) to serve as the Local Expert for the Rio Grande Basin's BIP update. As the local expert, the RGHRP will be the RGBRT's main point of contact with CWCB and Brown and Caldwell throughout the BIP update. This framework was developed to help streamline the update and produce consistent BIP documents and results across basins. 
In collaboration with the RGBRT, the RGHRP will be responsible for updating the BIP and basin projects list by  updating and adding new projects as well as determining their feasibility. The BIP update will be accomplished with input from the RGBRT and BIP subcommittees composed of local stakeholders and RGBRT members. These subcommittees include:
Environmental and Recreation
Agriculture
Municipal and Industrial
Water Administration
Education and Outreach
BIP subcommittees will continue to meet to develop strategies and inform the RGBRT and RGHRP in upcoming meetings. If you're interested in joining one of these subcommittees, it's not too late! Email Daniel Boyes, Program Manager at the RGHRP, at daniel@riograndeheadwaters.org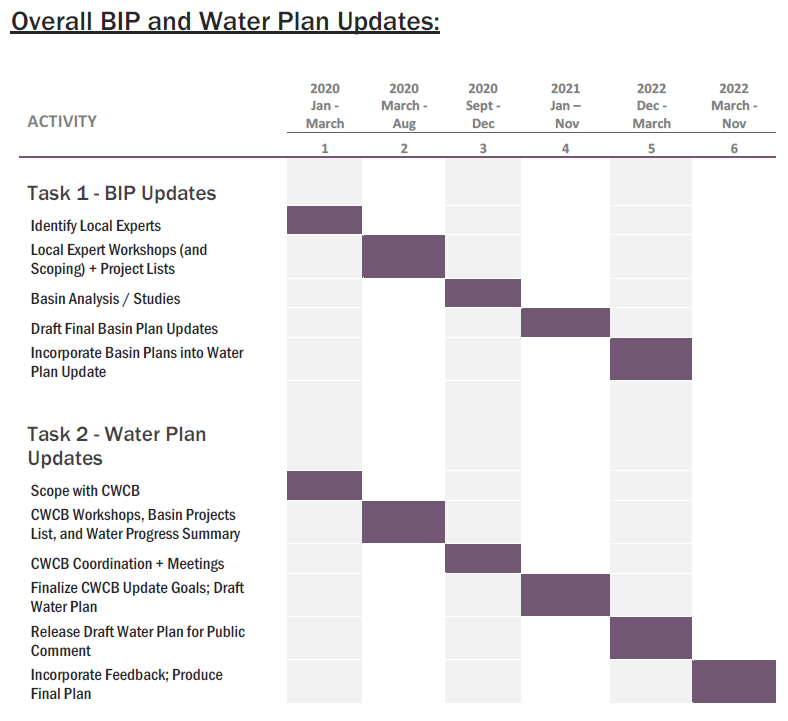 RECENT NEWS
November 2021 – Public comment period has ended for the BIP drafts. The final drafts will now go back to CWCB for review into the final draft. Thanks to all the subcommittee members and public commenters that were involved in this round of review!
September 2021 – Revisions and comments made by subcommittee members were completed September 13, and are now being incorporated by RGHRP Staff and Brown & Caldwell. In October, the drafts will be made available to the public for review. This period does not exclude roundtable members from making edits.
August 2021 – Rio Grande Headwaters Restoration Project staff worked with BIP subcommittees to prepare the first draft of the BIP Update.
March 2021 – BIP Update subcommittee Objectives and Strategies meetings. During these meetings, subcommittees developed objectives and strategies to include in the BIP Update.
ADDITIONAL INFORMATION ABOUT THE TECHNICAL UPDATE, EXISTING BIP, AND LOCAL EXPERT